by choirsontario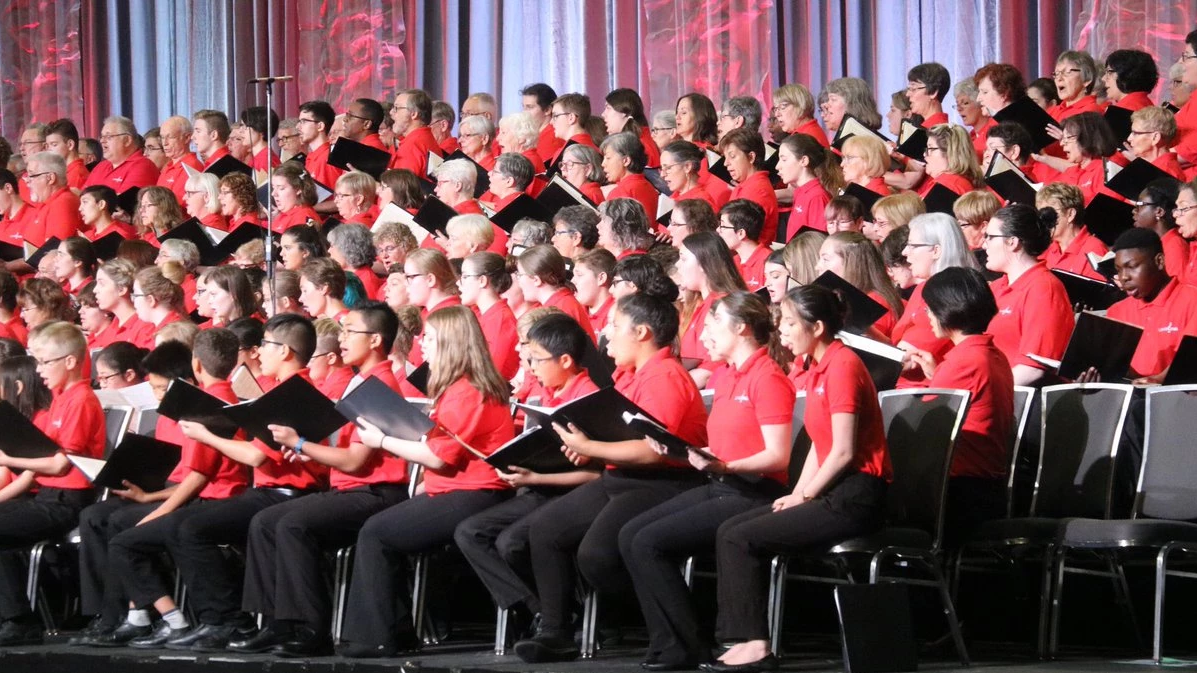 The Unisong Choral Festival has been uniting Canada through song since 1991. The festival brings hundreds of singers or all ages, from all parts of Canada to perform as one massed ensemble. Under the guidance of a well-known Canadian conductor, Unisong is at the heart of Canada Day festivities in the Nation's Capital!
The festival runs June 28th to July 2nd each year and provides choirs a once in a lifetime chance to perform in marquis venues in Ottawa.
2020's guest conductor is Kathleen Allan, the incoming Artistic Director and Conductor of the Amadeus Choir of Greater Toronto and is the Artistic Director of Canzona, Winnipeg's professional Baroque choir!
Every year is different, with unique performance opportunity, and featuring a repertoire of Canadian and International folk music hand-picked by our guest conductor. Additionally, Unisong has a partnership with Heritage Canada, the National Arts Centre, and the City of Ottawa, to ensure that our performers have the opportunity for amazing performances in locations not normally available. Past performance opportunities include singing O Canada on Parliament Hill and singing alongside the National Arts Centre Orchestra.
Have a look at our massed ensemble in 2017!
https://tinyurl.com/r3utrdl
For more information please visit our website, https://www.unisong.ca or contact our Festival Director, Mike Greenwood at:
Email: info@unisong.ca
Phone: 613-355-6616
JOIN US
We are now accepting applications for 2020 and beyond!
by choirsontario
From Mark Vuorinen, President of the Choirs Ontario Board of Directors:
It is a great pleasure for me to recognize two individuals whose impact on choral music in Ontario has been both broad and very deep.
The President's Leadership Award of Choirs Ontario recognizes individuals who, through their support or engagement in choral music-making, have made an exceptional contribution to the promotion and advancement of choral music in their communities.
The recipients of this year's award have been supporting choral music in this province, across the country, and around the world for decades. They have demonstrated their commitment to and passion for choral music as volunteers, board members, philanthropists, Honorary Patrons and audience members as they have assisted choirs and choral organizations and encouraged conductors to fulfill a vision for choral excellence and creative transcendence.
The recipients of the 2019 President's Leadership Award are Frieda and Vern Heinrichs.
They are Honorary Patrons of both the Elmer Iseler Singers and the Amadeus Choir, among many other groups.
As the jury for this award met, we encountered overwhelming support from the choral community for the Heinrichs' nomination through many letters of nomination. To understand the breadth and depth of the Heinrichs' rich contribution to the choral landscape of this province is to sample from the many extraordinary letters of nomination and support. I quote:
Vern and Elfrieda Heinrichs truly love the choral art form. They are there for advice, wisdom, and support of all kinds. They put all this into action every day of their lives. In their quiet way, they lift us up and lead us to a higher place, inspiring those whose lives they have touched to seek excellence in all that they do.
When our valued art form is continually experiencing the uphill struggle of funding, the Heinrichs' engagement has brought an essential legitimacy to the support of choral music, influencing many others to do likewise. Their rich Mennonite heritage has been an immense influence in their philanthropy, which they demonstrate with modesty, humility and great passion and enthusiasm.
Vern and Frieda were instrumental through the Heinrichs Foundation in endowing the Elmer Iseler Chair in Choral Conducting and the Elmer Iseler National Graduate Fellowships in Choral Conducting at the Faculty of Music at the University of Toronto. Their commitment to the importance of educating and exposing both current and future generations to excellence in choral music is evident in these and other endeavours.
Vern and Elfrieda are passionate about choral music, and they understand what a profound impact it can have on singers and audiences. They show their love and support for the choral community by their steady attendance at concerts, festivals and choral events of all levels in Toronto, Guelph, and throughout Canada and the US.
This very kind, compassionate couple has made an avocation of supporting choral music, and we in Canada have benefitted from their expertise and generosity. I can think of no better recipients for Choirs Ontario's President's Leadership Award.
Their kindnesses to musicians, their warm hospitality, their presence at so many events in the community, and their additional efforts behind-the-scenes to support the choral art are more than worthy of recognition from Choirs Ontario. In fact, I would say we are overdue in granting them this honour.
Please join me in recognizing and thanking Elfrieda and Vern Heinrichs for their transformational contribution to the choral music.
by choirsontario
We at the DaCapo Chamber Choir are pleased to announce that the 2020 NewWorks choral composition competition is now open.
The purpose of the NewWorks competition is to foster new and engaging choral works by Canadian composers. We are continually looking for new pieces to perform which will challenge us and our audiences – both musically and emotionally. This November, we released our newest CD – 9 of 10 tracks on this recording come out of this NewWorks competition!
In its programming and performance, DaCapo aims to contribute to the work of building empathy, and of fostering understanding. The choir is completing a three-year programming cycle focusing on the "road to refuge," which ultimately means the search for a new and safe home. For the 2020/21 season we are broadening the way we think about "home," and extending that idea to a global level. Composers are asked for submissions that will contribute to such a concept, works that will relate in some way to environmental and/or ecological realities, concerns, or celebrations.
The winning entry of the 2020 competition will receive a $1,500 cash award plus travel expenses to Kitchener to attend the premiere of his/her composition by the DaCapo Chamber Choir, under director Leonard Enns, in the choir's 2020/2021 season. We are also inviting young composers (aged 25 and younger) to submit compositions for consideration in our Young Composers Reading Sessions. Entry deadline is Thursday April 30, 2020.
Full information available on our website, www.dacapochamberchoir,ca/newworks.
by choirsontario
For Immediate Release | December 9, 2019
Music festival now more accessible to all choral music lovers.
Mississauga, Ontario, Canada – David Ambrose, Artistic Director announced some exciting pricing and programming changes that will make the Choral Mosaic music festival more accessible to everyone in our choral community. Choral Mosaic will now be held on 2 days (June 26 & 27, 2020) for  a new Early Bird price of $199 CAD until February 29, 2020. There will now also be open rehearsals offered for all participants.
Choral Mosaic 2020 will still feature performances from Rajaton and Mississauga Symphony Orchestra, and a spectacular Gala Concert featuring a brand-new commissioned work by renowned composer Kim André  Arnesen. Choral music enthusiasts of all skill levels will be invited to participate in a mass choir at the Gala Concert, no audition required. Choral Mosaic will also feature a keynote address by Kim André Arneson and master classes and workshops from top choral clinicians.
Choral Mosaic 2020 Program Highlights:
Keynote address from Norwegian composer Kim André Arnesen;

Concert by Finnish a capella performing artists Rajaton;

Master Class by Rajaton;

Mass Choir Gala Performance of the world premiere of a brand-new choral work by Kim André Arnesen, with Denis Mastromonaco conducting the Mississauga Symphony Orchestra;

Open rehearsals for all choristers prior to the festival weekend;

Master classes and workshops;

Every participant will have an opportunity to perform with no audition required!
Early Bird passes for the 2-day festival are on sale now for $199 CAD until February 29, 2020 here.
For more info, visit www.choralmosaic.com