by choirsontario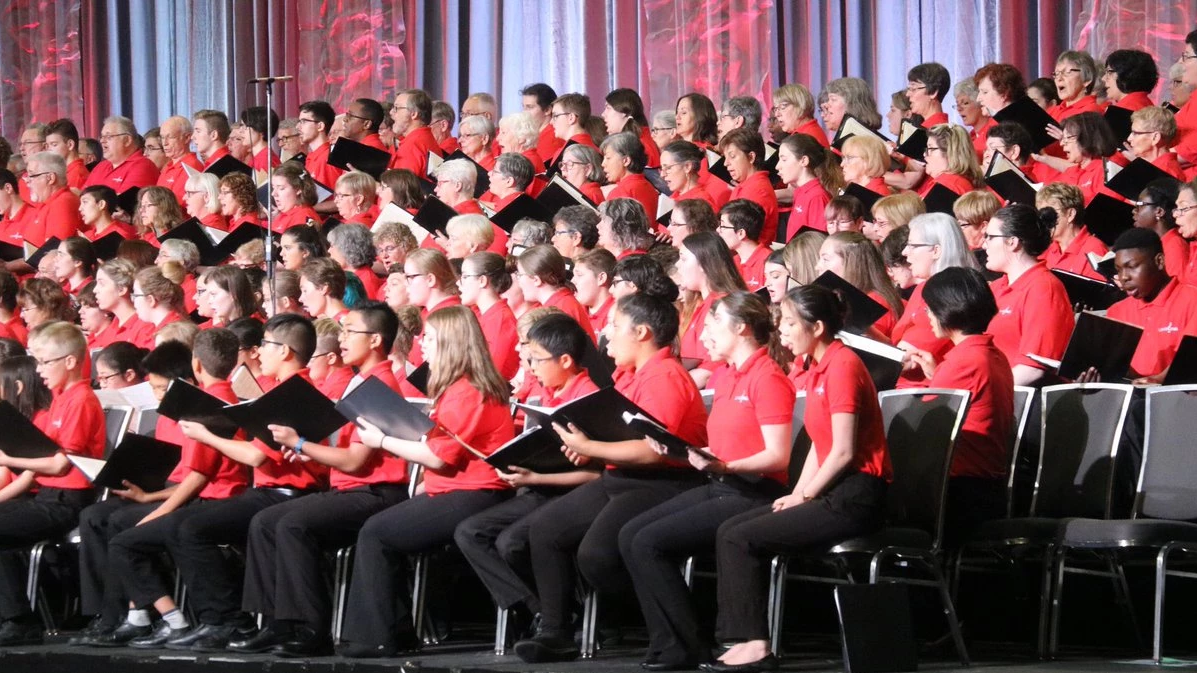 The Unisong Choral Festival has been uniting Canada through song since 1991. The festival brings hundreds of singers or all ages, from all parts of Canada to perform as one massed ensemble. Under the guidance of a well-known Canadian conductor, Unisong is at the heart of Canada Day festivities in the Nation's Capital!
The festival runs June 28th to July 2nd each year and provides choirs a once in a lifetime chance to perform in marquis venues in Ottawa.
2020's guest conductor is Kathleen Allan, the incoming Artistic Director and Conductor of the Amadeus Choir of Greater Toronto and is the Artistic Director of Canzona, Winnipeg's professional Baroque choir!
Every year is different, with unique performance opportunity, and featuring a repertoire of Canadian and International folk music hand-picked by our guest conductor. Additionally, Unisong has a partnership with Heritage Canada, the National Arts Centre, and the City of Ottawa, to ensure that our performers have the opportunity for amazing performances in locations not normally available. Past performance opportunities include singing O Canada on Parliament Hill and singing alongside the National Arts Centre Orchestra.
Have a look at our massed ensemble in 2017!
https://tinyurl.com/r3utrdl
For more information please visit our website, https://www.unisong.ca or contact our Festival Director, Mike Greenwood at:
Email: info@unisong.ca
Phone: 613-355-6616
JOIN US
We are now accepting applications for 2020 and beyond!
by choirsontario
For Immediate Release | December 9, 2019
Music festival now more accessible to all choral music lovers.
Mississauga, Ontario, Canada – David Ambrose, Artistic Director announced some exciting pricing and programming changes that will make the Choral Mosaic music festival more accessible to everyone in our choral community. Choral Mosaic will now be held on 2 days (June 26 & 27, 2020) for  a new Early Bird price of $199 CAD until February 29, 2020. There will now also be open rehearsals offered for all participants.
Choral Mosaic 2020 will still feature performances from Rajaton and Mississauga Symphony Orchestra, and a spectacular Gala Concert featuring a brand-new commissioned work by renowned composer Kim André  Arnesen. Choral music enthusiasts of all skill levels will be invited to participate in a mass choir at the Gala Concert, no audition required. Choral Mosaic will also feature a keynote address by Kim André Arneson and master classes and workshops from top choral clinicians.
Choral Mosaic 2020 Program Highlights:
Keynote address from Norwegian composer Kim André Arnesen;

Concert by Finnish a capella performing artists Rajaton;

Master Class by Rajaton;

Mass Choir Gala Performance of the world premiere of a brand-new choral work by Kim André Arnesen, with Denis Mastromonaco conducting the Mississauga Symphony Orchestra;

Open rehearsals for all choristers prior to the festival weekend;

Master classes and workshops;

Every participant will have an opportunity to perform with no audition required!
Early Bird passes for the 2-day festival are on sale now for $199 CAD until February 29, 2020 here.
For more info, visit www.choralmosaic.com
by choirsontario
PODIUM, Choral Canada's national biennial bilingual Conference and Festival and the top meeting place for Canada's choral community and beyond, is taking place in Montreal from May 14-17, 2020.
PODIUM brings together choral practitioners, researchers, administrators, students, representatives from the music industry, choristers, composers and other members of the choral community from across the country and beyond for professional development, the sharing and proliferation of ideas and research in choral music, performance, networking, and to celebrate Canada's choral communities.
This exciting 4-day conference (May 14-17, 2020) will be packed with sessions, concerts, master classes, student chapter presentations, and much more.
Our early bird registration ends December 1, 2019.
Early Bird registration is now open until December 1, 2019. Get your pass today! https://www.podium2020.ca/registration.html
Daytime choirs (Spotlight Choirs) https://www.podium2020.ca/spotlight-concerts.html
Evening Choirs (Highlight Choirs) https://www.podium2020.ca/highlight-concerts.html
Master Classes: Deadline to apply is December 15, 2019 https://www.podium2020.ca/masterclasses.html
Session Presenters: https://www.podium2020.ca/session-presenters.html
PODIUM Schedule at a glance: https://www.podium2020.ca/schedule.html
Stay up to date, subscribe to the PODIUM newsletter https://www.podium2020.ca/newsletter.html
by choirsontario
For Immediate Release | October 17, 2019
A new music festival that gives choral music lovers of all levels a chance to perform and learn together with choral musicians from around the world.
Mississauga, Ontario, Canada – David Ambrose, Artistic Director has announced the programming for the choral music festival's inaugural season. Spread over 3 days from June 25-27, 2020, Choral Mosaic 2020 will feature performances from renowned choral musicians from all over the world, and choral music enthusiasts of all skill levels will be invited to participate in a mass choir gala performance, no audition required. Choral Mosaic will also feature keynote addresses, master classes and workshops from top choral clinicians.
David Ambrose spoke about what makes the Choral Mosaic program unique from other choral festivals: "It's really the only festival in this part of the country that is actually designed for singers, to give opportunities for singers that they wouldn't have on a week-in, week-out basis in their own choirs, to give them access to some wonderful educational opportunities, a chance to perform some fantastic music a full symphony orchestra including a brand-new commissioned work by one of the world's top new composers. It's also just a chance to come together as a choral community and celebrate what we do and explore what we do on a deeper level."
Program Highlights:
• Keynote address from Norwegian composer Kim André Arnesen;
• Concert by Finnish a capella performing artists Rajaton;
• Performance of Primadonna Choralis by Canadian Soprano Mary Lou Fallis;
• Master Class by Rajaton;
• Mass Choir Gala Performance of the world premiere of a brand-new choral work by Kim André Arnesen, with Denis Mastromonaco conducting the Mississauga Symphony Orchestra;
• Performances by choirs from around the world;
• Master classes and workshops;
• Every participant will have an opportunity to perform with no audition required!
See the new Choral Mosaic 2020 Program Schedule here
Early Bird passes for the 3-day festival are on sale now until December 9, 2019 here
Program Details:
Kim Andre Arnesen: Composer and Keynote Speaker
Kim André Arnesen is one of the most frequently performed classical composers from Norway today. He was educated at the Music Conservatory in Trondheim. Choral music became his greatest passion. As a composer, he had his first performance at the age of 18. Since then he has written music that has been performed by choirs all over the world.
Rajaton: Performance & Master Class
A capella sensation Rajaton was founded in Helsinki in 1997. Rajaton has sold over 100,000 records worldwide. They have earned eight gold records, one platinum and one double platinum record. The Finnish word "rajaton" means "boundless", and this perfectly describes the wide and varied nature of their repertoire, from sacred classical to Europop. Rajaton performs in Finland and tours in Europe and around the world. They have performed in over 25 countries.
Primadonna Choralis with Mary Lou Fallis
Toronto-born Mary Lou Fallis is well known to thousands of Canadian theatregoers for her series of one-woman shows (Primadonna, Primadonna Goes Camping, Primadonna Does More with Less, Primadonna on a Moose), which have toured North America, Europe, Japan and Iceland. She is well known to millions of radio fans for her weekly Primadonna Diaries which were a regular feature on CBC Radio 2 for many years. Mary Lou was nominated for a Dora Mavor Moore Award for her Primadonna series (based on her own life as a singer) as well as winning a Gemini Award for producing the BRAVO! TV hit "Bathroom Divas". She has released two CDs: "Primadonna on a Moose" and "Fallis & Tiefenbach More or Less Live". Ms. Fallis has toured Canada from stem to stern and is much in demand as an adjudicator and clinician across the country. Mary Lou Fallis was appointed to the Order of Canada in 2011 for her services to music and her work as a performer, teacher and broadcaster.
The Mississauga Symphony Orchestra
The Mississauga Symphony Orchestra is passionate about, and committed to, maintaining and continuing the tradition of classical symphonic music in Mississauga. The MSO takes pride in our designation as the best hybrid orchestra in Canada, a term that describes an orchestra with a mixture of professional musicians and highly skilled amateurs. Under the direction of Maestro Denis Mastromonaco since 2013, the Mississauga Symphony Orchestra continues to offer entertaining and increasingly sophisticated programs from the classical and popular repertoires of symphonic music with a quality of programming that meets the highest artistic standards. With the inclusion of the Mississauga Symphony Youth Orchestra in 2014, the organization has become the centre of classical symphonic music in Mississauga, built around the pillars of music education, performance and entertainment. The MSO has grown significantly since its inception in 1972 and is now designated as one of Mississauga's six pillars of arts, culture and heritage.
Denis Mastromonaco, Conductor
The Mississauga Symphony Orchestra is thrilled to enter its fifth season under the direction of Maestro Denis Mastromonaco. Mastromonaco brings with him over 20 years of experience in conducting and teaching both symphonic and operatic groups. He has worked with orchestras nationally and internationally including New York's Orchard Park Orchestra, Czech Republic's West Bohemian National Orchestra, and the National Academy Orchestra of Canada. As an advocate for music in the community, Maestro Mastromonaco has been Music Director for numerous ensembles and has taught, adjudicated and served as clinician for schools, arts festivals and competitions all while promoting the importance of music in local communities. He has been the recipient of prestigious awards including the Emme Contestabile Prize in Orchestral Conducting from Accademia Musicale Chigiana, the City of Vaughan 2005 Outstanding Citizen Award and in 2013 the Ontario Service Medal for contribution to the arts.
David Ambrose, Artistic Director
David Ambrose is the creator and founder of Choral Mosaic. David has served as Artistic Director of Mississauga Festival Choir since 2006, facilitating its growth from a single choir of 75 to an organization of four choirs with more than 250 singers. An award-winning conductor, singer and director, he is equally accomplished in choral music, musical theatre and opera. David was the inaugural winner of the Elmer Iseler National Fellowship in Choral Conducting. In recent years, David has served as Stage Director for Mississauga Symphony's productions of Carmen and La Bohème, as well as productions of Beauty and the Beast, How to Succeed in Business without Really Trying and Anne of Green Gables. David teaches vocal music at Etobicoke School of the Arts, one of Canada's leading high schools for the arts. He also conducts several ESA choral ensembles including its Toronto Symphony Orchestra Pops Choir and the award-winning WoCo young women's choir. David serves as Director of Music at Runnymede United Church, is active as a choral music clinician, and mentors many emerging artists.
Mississauga Festival Choir, Host Choir
With over 160 singers, Mississauga Festival Choir is one of the largest community choirs in Canada. MFC enriches lives through music by way of performance, education and outreach. The choir values excellence in choral music performance, education, spirit and community engagement. MFC first came together in 1984 to celebrate Mississauga's 10th anniversary and stayed together to celebrate the joy of singing in a choral community like no other. Their spirited singing springs from our no-audition policy. Everyone who loves to sing is welcome to join MFC, and audiences hear the joy in every song. Under the leadership of David Ambrose, MFC performs many concerts, raises money for local charities, records professional CDs, holds an annual choral competition and tours the world. In addition to the large community choir, the MFC family includes Resonance (a youth and young adult choir), Raising Voices (a choir for people with Alzheimer's and dementia), and a chamber choir.
'Round the Town Concerts & Workshops
More details to follow in the coming months.
For more information, please visit the Choral Mosaic 2020 Website or this Choral Mosaic 2020 Event Page.
Choral Mosaic 2020 gratefully acknowledges the generous support of: The City of Mississauga, The Living Arts Centre, Ellison Travel & Tours.
by choirsontario
For Immediate Release | October 1, 2019
Time flies when you are making music!
Celebrating 30 years of Robert Cooper with CHORUS NIAGARA
It thrills us to celebrate the 30th anniversary of Chorus Niagara Artistic Director Robert Cooper. Bob's artistic leadership drives Chorus Niagara's pursuit of musical excellence and our continued success as a pillar of the arts in Niagara. We dedicate our 57th season to him and his ongoing musical legacy in the choral arts in Canada.
After 31 successful years bringing fine vocal and choral music to all of Canada as Executive Producer of Opera and Choral Music for CBC Radio Two, Mr. Cooper now pursues a full-time conducting schedule. One of Canada's foremost choral musicians, Robert Cooper is also Artistic Director of the Orpheus Choir of Toronto and the Opera in Concert Chorus. He is formerly the Artistic Director of the Ontario Male Chorus. He taught for several years as a member of the Choral Department, Faculty of Music, University of Toronto and conducted the National Youth Choir of Canada, the Ontario Youth Choir (1979, 2007) and a Celebration of Canadian Choral Music at Carnegie Hall.
A superb choral trainer and conductor, Mr. Cooper provided strong artistic mentoring to young singers in the Toronto Mendelssohn Youth Choir and the Orpheus Choir Sidgwick Scholars Program, influencing over 2000 young adult singers. Besides his work with choirs, Mr. Cooper has worked over 100 operas and has conducted symphony orchestras in Halifax, Winnipeg, Edmonton, Orchestra London, opera companies in Victoria, Ottawa and Winnipeg and Toronto Operetta Theatre and Opera in Concert. Mr. Cooper has also guest conducted several Canadian choirs, and guest engagements at Festival 500, Kathaumixw , Festival of the Sound, Stratford, Guelph and Algoma Festivals, and Thirteen Strings.
Acknowledged as an innovative programmer, Mr. Cooper has commissioned and premiered many new works by both Canadian and international composers. He prepared choruses for many international conductors including Helmuth Rilling, the late Sir David Willcocks, John Rutter, Sir Andrew Davis, Charles Dutoit, and the late Robert Shaw and Elmer Iseler. Having been a regular member of the Jury for the international choral competition Let the Peoples Sing, he adjudicated the World Choral Games in Shaoxing, China (2010), Cincinnati, USA (2012) and in Tshwane, South Africa (2018). He served as President of both the Ontario Choral Federation and the Association of Canadian Choral Conductors, sat on the Board of Directors of Chorus America, is currently on the Advisory Board of the International Federation of Choral Music and is a member of the World Choral Council. Awarded the St. Catharines' Trillium Arts Award for excellence in the arts, Robert Cooper is also the recipient of an Honorary Doctorate from Brock University, the Order of Canada, Queen's Jubilee Medal for his significant contribution to the Canadian choral community, and a St. Catharines Arts Award.
Join us all season for celebration and surprises!
MEDIA CONTACT contact Diana McAdorey , Managing Director cnadmin@becon.org or 905-934-5575
CHORUSNIAGARA . ORG
by choirsontario
Annika Fabbi is an 18-year old pianist from Uxbridge. She is a graduate of Uxbridge Secondary School and recently completed her ARCT in piano performance at Toronto's Royal Conservatory of Music.
This summer Annika attended the Orford Music Academy in Quebec's Eastern Townships. In September she will commence piano performance studies at University of Ottawa in the studio of David Jalbert.
Annika is the only three-time winner of the Ross Memorial Piano Award from the Sunderland Lions Music Festival and has won awards from the North York Music Festival and the Unionville Music Academy Competition. This year she was honoured to be a scholarship winner from the Uxbridge Music Scholarship Trust. Annika was an active member of the Uxbridge Secondary School Music Department serving as clarinet section leader for four years, and plays first clarinet with the Uxbridge Community Concert Band.
by choirsontario
Toronto, Ontario, September 2019 — The Amadeus Choir has announced the artists selected for its 2019-20 Emerging Canadian Voices (ECV) program, supported by a three-year gift from the Azrieli Foundation. In this inaugural year, the program includes six singers who will hold leadership positions in the Amadeus Choir during weekly rehearsals and perform at all Amadeus concerts and events.
The Amadeus Choir's 2019/20 Emerging Canadian Voices are: Nicholas Wanstall, Emily Lynch, Elizabeth Wanstall, Matthew Chan, Allison Winn, and Meredith Wanstall.
All six ECV singers also perform with Octava Vocal Ensemble, a group of eight young musicians who have dedicated the past three years to honing their craft, working to a professional standard of excellence in a cappella performance. As an ensemble-in-residence, all eight members of Octava will benefit from mentorship and professional development workshops led by Artistic Director and Conductor Kathleen Allan, the choir's senior section leads, and the Amadeus Choir's community partners. Each ECV participant will also receive a stipend.
This project is one that the choir could only put into action with the assistance of a committed sponsor. The choir is grateful for the three-year commitment the Azrieli Foundation has made to support the evolution of the ECV program.
###
For more information about the Amadeus Choir or ECV program, or to schedule an interview, please contact Keith Loach at managingdirector@amadeuschoir.com.
About the Amadeus Choir of Greater Toronto
Founded in 1974, the Amadeus Choir has become known for its professionalism, exceptional musicality, and diverse, high-quality programming. Now under the direction of Kathleen Allan, the choir is committed to promoting the work Canadian composers and sharing the power of choral music with Toronto, Canada, and beyond.
www.amadeuschoir.com
Keith Loach
MA Music, MBA
Managing Director, Amadeus Choir
www.amadeuschoir.com
by choirsontario
2019 marks TMC's 125th anniversary. Founded in 1894, the Choir has performed in the 19th, 20th and 21st centuries, as Toronto went from a city of 200,000 to the Greater Toronto Area of over 6 million. Over its 125-year history the TMC is proud to have played a role in the development of Canadian classical choral music, particularly in Toronto. Discover some of Toronto's choral music history through the TMC's history. Visit the TMC History Tidbits page (https://www.tmchoir.org/tmc-history-tidbits/) for weekly stories about the music, the people, the places and the events that have been an important part of TMC and Toronto musical history.
These include:
The Choir was founded by Augustus Stephen Vogt in 1894. Vogt went on to become principal of the Toronto Conservatory of Music in 1913 (later known as the Royal Conservatory of Music) and he helped establish the Faculty of Music at the University of Toronto becoming its first Dean in 1918.
In the early years of the 20th century (before the founding of the Toronto Symphony Orchestra in 1922), the Choir brought a number of stellar American orchestras to Toronto for concerts, including the Theodore Thomas Orchestra of Chicago (which became the Chicago Symphony Orchestra), the Pittsburgh Orchestra, the Philadelphia Orchestra and the Cincinnati Orchestra.
The Toronto Mendelssohn Choir presented the Canadian premieres of a number of major symphonic choral works: Ralph Vaughan Williams' Sea Symphony in 1921; William Walton's Belshazzar's Feast in 1936; Hector Berlioz's Requiem in 1938; Benjamin Britten's War Requiem in 1964; and Krzysztof Penderecki's St Luke Passion in 1971.
The TMC has commissioned and premiered a number of works by Canadian composers, from Healey Willan's An Apostrophe to the Heavenly Hosts in 1921 up to Andrew Balfour's Mamihcimowin in 2019 (to be premiered at the TMC's 125th anniversary Gala concert with the TSO on October 20th https://www.tmchoir.org/201920-season/125-gala-concert/ ).
Learn more about these and many other historical events on the TMC History Tidbits webpage (https://www.tmchoir.org/tmc-history-tidbits/) which will be added to throughout the summer and fall, or by following TMChoir on Facebook, Twitter or Instagram.
by choirsontario
Change is in the air for the Carleton University Choir (CUC). This fall the 50-member ensemble will not only change its rehearsal schedule and location, but it will also welcome Antonio Llaca as their choral conductor and newly appointed director of Choral Activities for the Carleton Music program.
The CUC has been a prominent part of the Ottawa music community for more than 40 years, with a vibrant membership that includes music students, Carleton staff, alumni and members of the community. Carleton has recently acquired the Carleton Dominion-Chalmers Centre and, starting this fall, the CUC will hold weekly rehearsals there on Wednesday evenings.
"I am extremely excited and honoured to assume the directorship of the CUC," says Cuban-Canadian conductor Llaca.
Llaca has been a part of the Carleton teaching staff since 2016, teaching undergraduate courses in choral and instrumental conducting. As director of Choral Activities he will serve as choral conductor for the CUC, conductor of the smaller Student Vocal Ensemble, and he will teach undergraduate courses in choral and instrumental conducting.
"Choral studies are an integral part of the training of any musician," said Llaca. "I personally see great opportunities in Carleton's music program and exciting prospects for collaborations with other choral and instrumental groups."
"We anticipate great things ahead with Llaca at the helm of the CUC," said Alexis Luko, associate professor of Music and assistant director in the School for Studies in Art and Culture. "The new energy of this dynamic conductor and the new rehearsal space at Carleton Dominion-Chalmers Centre will showcase the talents of our Carleton music students and further strengthen our collaborative efforts within the Ottawa community."
About the Carleton University Choir
The CUC is a large choral ensemble of as many as 90 voices. The choir is open by audition to Carleton students, members of the university community, and the public. The choir presents two major public concerts during the academic year. These events showcase a variety of large- and small-scale choral works and frequently feature orchestra and soloists.
The CUC rehearses Wednesdays from 7 p.m. to 10 p.m. at the Carleton Dominion-Chalmers Centre (355 Cooper St, Ottawa, ON K2P 0G8). The smaller Student Vocal Ensemble will meet in Carleton's Loeb Building on Wednesdays from 2:35 p.m. to 5:35 p.m. Auditions will take place in early September. Those interested in joining the choir are encouraged to contact Llac at AntonioLlacaBuznego@cunet.carleton.ca for more information.
About the Conductor
Cuban born, Llaca is an active choral conductor, teacher, and clinician. He studied choral conducting and classical guitar both in Canada and in South America. He holds a Master's degree in Choral Conducting from Université de Sherbrooke (Montreal) and has studied with masters such as Michael Zaugg, Christopher Jackson, Robert Ingari, Patrick Roux, Laurence Ewashko and Luis Zea. In addition to his work at Carleton, he is also a professor at the Conservatoire de Musique de Gatineau where he conducts the choirs and orchestra. In this position he founded and currently conducts the award-winning Choeur de Chambre du Conservatoire. Since 2009, Llaca has conducted Coro Vivo Ottawa (CVO). In addition to this, he often collaborates with numerous ensembles and prepares choruses for Canadian orchestras and artists such as The Tenors and touring international orchestras, such as the China Broadcasting Chinese Orchestra. His choral ensembles have performed on national and international stages including the National Arts Centre, the Tintqiao Performing Arts Centre (China) and Carnegie Hall.
Llaca is a sought-after choral clinician, having had a chance to present workshops at various Canadian and international institutions and festivals, including with the 2018 International Federation for Choral Music (IFCM) in Beijing. As an instrumentalist, he has had the opportunity to perform in several festivals and instrumental ensembles across Canada including the National Arts Centre Orchestra in Ottawa and Montreal's Orchestre Métropolitain.
Llaca has toured in Canada, Latin America and Asia with his ensembles. He has earned a reputation for being a passionate conductor and pedagogue who is regarded for his musicality and knowledge of the choral art. Llaca's 2019-2020 season will include performances with visiting choral ensembles from the USA and the Czech Republic, a joint performance of the Brahms Requiem with the Orchestre Symphonique de Gatineau and he will lead a conference on Cuban choral music at the PODIUM national conference in Montreal.
Media Contact
Steven Reid
Media Relations Officer
Carleton University
613-520-2600, ext. 8718
613-265-6613
Steven_Reid3@Carleton.ca
Carleton Newsroom: https://newsroom.carleton.ca/
Follow us on Twitter: www.twitter.com/Cunewsroom
Need an expert? Go to: www.carleton.ca/newsroom/experts
Tuesday, July 23, 2019 in News Releases
Share: Twitter, Facebook
by choirsontario
FOR IMMEDIATE RELEASE April 2, 2019 (Toronto, ON)
Choirs Ontario is pleased to introduce Preferred Partner Program (COPPP) as a new benefit to our members.
This program provides Choirs Ontario member exclusive, high-value discounts and benefits from a growing list of partners including:
Choice Hotels – Savings at over 6,800 hotels worldwide for leisure & business travel;
Merriam Music – Exclusive discounts from Canada's leading piano retailer;
The Leading Note – Special discounts on choral sheet music orders; and more
The full list of current Partners and Special Offers is available on our website: https://choirsontario.org/partners/
For instructions on how to take advantage of these offers, please log into your Member Account.
As the provincial network for Ontario's 11,000 choral groups, we're in a unique position to develop partnerships with local businesses, social enterprises and other organizations that work with and support the choral and non-profit sectors.
The team at Choirs Ontario is continually sourcing new partner offers – benefits that our members will desire most. Please feel free to contact us if you have any suggestions for products and services you'd like to see as part of the COPPP.
For interviews, please contact Elena Koneva, Managing Director at info@choirsontario.org or 416-923-1144.