by choirsontario
The following is a list of COVID-19 related resources for choirs compiled by Choirs Ontario.
COVID-19 Audience Outlook Monitor survey in Ontario
ACDA/NATS – A Conversation: What Do Science and Data Say About the Near Term Future of Singing
Dr. Heather Nelson – Singing, the Church, and COVID-19: A Caution for Moving Forward in Our Current Pandemic.
The Middle Class Artist – NATS Panel of Experts Lays Out Sobering Future for Singers: "No Vaccine, No Safe Public Singing".
Choirs Unite – Facebook Group: In this uncertain time, while we are all likely sharing feelings of isolation, let's gather together to focus on engaging and loving our choristers through this hardship, and providing them with continued opportunities once we all come out the other side. This is a place to collect and share ideas for ear training, theory, vocal pedagogy, virtual choirs, group chats, repertoire, warm ups, part singing, upcoming auditions, touring, programming or anything else we may want to share and discuss. Let's collaborate, share and unite through the coming months – Elise Bradley
This is My Choir – This Facebook group is a "virtual online choral festival". Members are invited to post free links to video (or audio) recordings of their choir's best performances for all to enjoy! 
Choral Canada – COVID-19 Resources for the Canadian Choral Community.
Ontario Arts Council – Ontario Arts Council COVID-19 resources.
Canada Council – COVID-19: Information and support for the arts sector.
Elemental – Why Singers Might Be Covid-19 Super-Spreaders.
National Association for Music Education – Music Teacher Resources for School Closures.
The Choir Project – Facebook Group: The Choir Project's mission is "to build community chorally" by providing Naples, Florida area choral singers of various ages, ethnicities, and abilities with innovative opportunities to sing together in short-term projects, under creative and visionary musical leadership.
Chorus America – Rehearsal Guide: Choral Singing in the Time of COVID-19 and Choruses and COVID-19. 
Ontario Music Educators Association (OMEA) – Elementary School Parent Support for the Arts and Secondary School Parent Support for the Arts.
Business/Arts – Arts Response Tracking Study
by choirsontario
Choral Canada and the provincial choral organizations will be hosting a National Webinar on Wednesday, May 20th at 7pm Eastern Time (4:00PC, 5:00MTN, 6:00 CTRL, 8:00ATL. 8:30NL) that will seek to provide information and time for Q & A. Many of you may have listened to the recent online NATS/ACDA/Chorus America webinar which left us all a little on edge.
This session will seek to provide more Canadian-specific information, both on the science and data as well as its effect on choral singing in the near future. We will close with some great ideas of ways in which you can keep your ensembles growing and engaged and, hopefully, singing during this period of restrictions. This first webinar will aim to feature information applicable to choirs of all types.
Choral Canada organise un webinaire national le mercredi 20 mai à 19 heures, heure de l'Est (16h PC, 17h MTN, 18h CTRL, 20h ATL, 20h30 NL) qui cherchera à fournir des informations et du temps pour les questions et réponses. Beaucoup d'entre vous ont peut-être assisté au récent webinaire organisé par NATS/ACDA/Chorus America, ce qui nous a tous laissé un peu perplexe.
Cette séance cherchera à fournir des informations plus spécifiques au contexte canadien, tant sur la science et les données que sur son effet sur le chant choral dans un avenir proche. Nous terminerons avec quelques bonnes idées sur des stratégies qui pourront vous aider à maintenir un esprit d'engagement, d'apprentissage et de bonne volonté dans vos ensembles en attendant le retour des grands rassemblements. Ce premier webinaire visera à présenter des informations applicables aux chœurs de tous les types.
by choirsontario
Ontario Arts Council announcement
Operatic baritone Russell Braun has received the Oskar Morawetz Award for Excellence in Music Performance. This prize honours the legacy of Oskar Morawetz, one of Canada's leading composers of contemporary music, whose career spanned more than 50 years. It is presented biennially to an outstanding Canadian performer in the field of classical music, recognizing talent and commitment to Canadian music.
Russell was selected for this award by a jury of music professionals convened by the Ontario Arts Council. The jury, which was unanimous in its decision, stated: "Russell's powerful voice and strong stage presence have made him a highly sought-after artist by the world's major opera companies. Along with his stellar international reputation, he also makes it a point to maintain his commitment and connection to Canadian music and composers – including Oskar Morawetz."
The award presentation took place on Wednesday, February 19, 2020, following that evening's performance of the Canadian Opera Company's Hansel & Gretel, in which he is performing the role of Peter. The award was co-presented by Claudia Morawetz, daughter of Oskar Morawetz, and Judith Gelber, vice-chair of the Ontario Arts Council board of directors.
In response to receiving the award, Russell said: "It fills me with a great sense of honour to receive the Oskar Morawetz Award. I am humbled to be in the company of other esteemed Canadian artists who have received this prize. I had the great privilege to meet Oskar Morawetz, and I saw how, through his keen sense of storytelling, he was able to express Canada's place in history in a way that was informed by his own personal experience, empathy and sense of humour. Thank you to the award jurors, the Morawetz family and to all brave composers who express their voice and entrust artists to speak eternally for them."
by choirsontario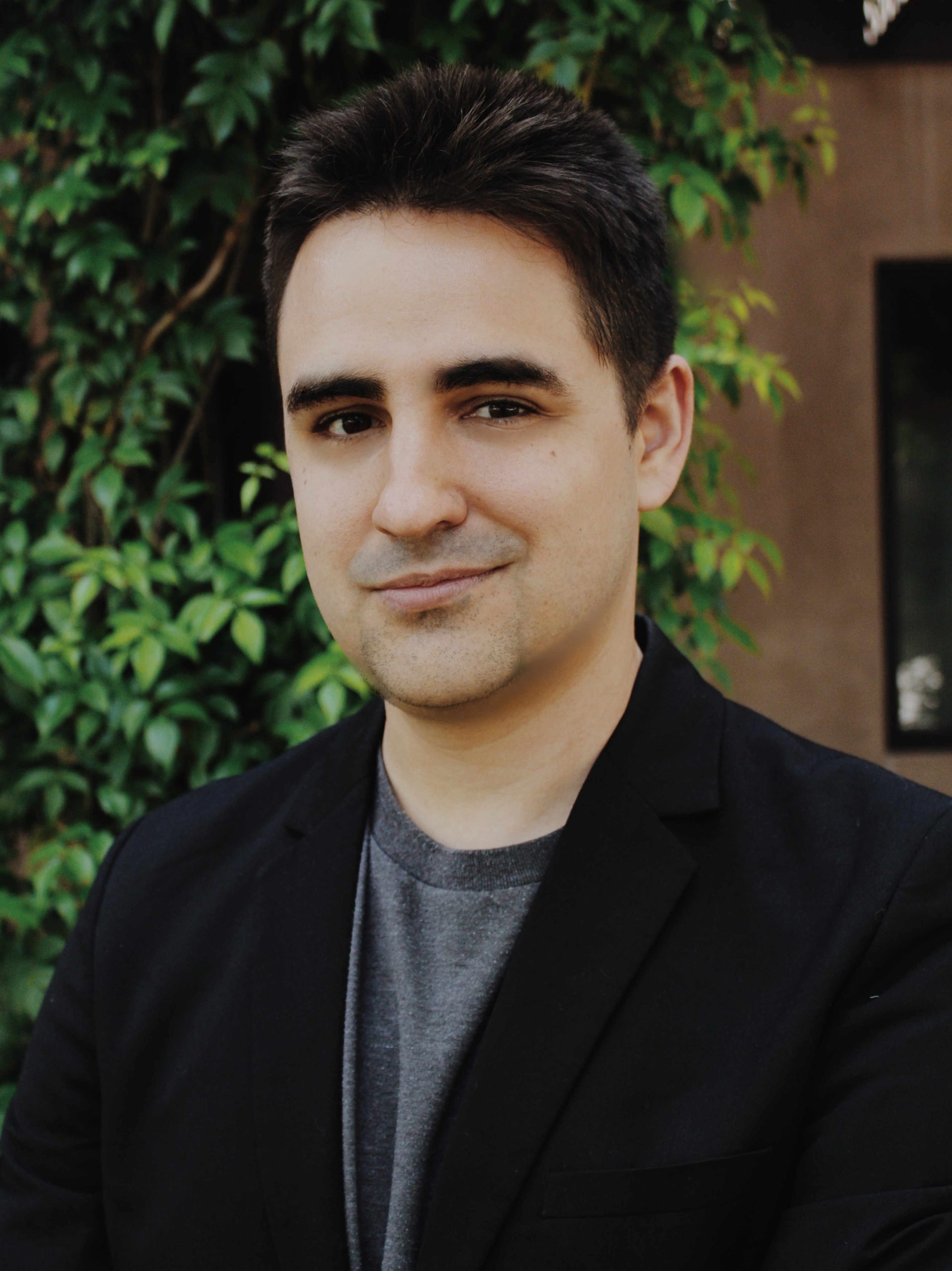 Congratulations to Nicholas Ryan Kelly, winner of the 2019 Ruth Watson Henderson Choral Composition Competition!
Choirs Ontario received 30 submissions from composers across the country. The compositions were reviewed by a distinguished jury including Hilary Apfelstadt, Leonard Enns, and Melissa Lalonde.
Memory's Voices by Penticton, BC composer, Nicholas Ryan Kelly was chosen as the winner. Nicholas receives a cash prize of $2,000.00 and a premier performance to be determined.
From the jury: "The music is chorally idiomatic and well written, the harmonic journey is compelling and expressive, and the music/text relationship is sensitive and nuanced. Every moment reaches forward, to lead us through a rich and satisfying journey."
The Snow-Shower by Toronto composer, Emily Green was given an honourable mention.
This is an attractive setting of this evocative and picturesque text (by William Cullen Bryant), with interesting and well-crafted harmonic changes, rewarding melodic material for all voice parts, changes in choral texture that keep the music fresh and engaging, and gentle metric shifts, all supported by the constant underlying voice of the piano."
Nicholas Ryan Kelly is a composer who draws inspiration from speculative fiction, science, and nature. He has been commended by the Vancouver Sun for his "sophisticated work of such immediate, glittery appeal" and called "a rising star in the constellation of Canadian composers" by Oregon Arts Watch. Originally drawn to music's storytelling power by symphonic film scores, he now brings a sense of cinematic drama to music for choirs, orchestras, and wind bands throughout North America.
Choirs Ontario is grateful to our jury members, Hilary Apfelstadt, Leonard Enns and Melissa Lalonde, Competition Coordinator Meghan Hila and Choirs Ontario Past President, Elaine Choi.
Choirs Ontario is proud to support Canadian composers and add to the rich legacy of Canadian choral music through the Ruth Watson Henderson Choral Composition Competition. Past winners of the competition include: Jason Jestadt, Mark Sirett, Leonard Enns, Allan Bevan, and Elise Letourneau. For a complete list of winners, please visit www.choirsontario.org/ruthwatsonhenderson.html
The competition was born out of a concert held in November 1992 to honour Ruth's 60th birthday including Toronto Children's Chorus, Elmer Iseler Singers, Amadeus Choir, Bach Children's Chorus, Elora Festival Singers, Oriana Women's Choir, and TMC Youth Chorus. The proceeds of this joint concert were used to establish the RWH competition. The administration of the competition was handed over to Choirs Ontario with Ruth Watson Henderson involved in judging the competition up until 2017.
One of Canada's foremost musicians, Ruth Watson Henderson is renowned internationally both as a composer and pianist. Her works are acclaimed, performed, and recorded worldwide. The Ruth Watson Henderson Choral Competition was established in 1996 to recognize Ms. Watson Henderson's invaluable contribution to the art of choral music. Ms. Henderson is very pleased to encourage the contribution to Canadian choral music that the competition provides, and appreciates the work of Choirs Ontario who administers this program.
by choirsontario
Register NOW for the 2020 Annual Canadian Renaissance Music Summer School (May 2020)!
February 1st is the deadline for applications to participate in the annual Canadian Renaissance Music Summer School (CRMSS). Directed by world-renowned baritone and choral workshop leader Greg Skidmore https://www.gregskidmore.co.uk, it will once again take place from May 9 to 17, 2020 at Huron University (part of Western University) in London Ontario. In its third year, this school is the only Renaissance choral music workshop of its kind in Canada. It is on par with the best of these types of workshops run by The Tallis Scholars (Seattle), the Early Music Academy (Boston) and those held across England and Europe. In fact, the schools official patron is Peter Phillips, the current director of The Tallis Scholars.
A welcoming message from our director, Greg Skidmore:
"I can't tell you how excited I am for CRMSS 2020. This is our third year and we've had such great fun and learned so much since May 2018. I'm especially excited this year to be focusing on the works of the Franco-Flemish school, really the 'home' of Renaissance polyphonic music. Equally exciting is our expanding tutor team, this year including CRMSS Guest Artist Robert Hollingworth (director of the UK's dynamic and inventive vocal consort, I Fagiolini) and five master's level performance students from the University of York in the UK, all of whom bring a wide range of experience and energy to the course. If you want to spend a whole week diving so deep into Renaissance polyphony you think you might never want to come up for air, please get in touch (info@crmss.org) and apply! I can't wait to hear from you."
Aimed primarily, but not exclusively, at undergraduate students, graduates, and young professional singers, the school is dedicated to the study and performance of Renaissance polyphonic vocal music at the highest levels. Students will learn from internationally-acknowledged specialist tutors from the worlds of performance and academia https://www.crmss.org/tutors.html, and be immersed in this magnificent music for a full week. It will be an intensive period of rehearsal and performance, both liturgically and in concert, all with an emphasis on quality in performance.
The theme of CRMSS 2020 is Beyond the Ordinary with a focus on Franco-Flemish music. Complete Details of the course curriculum here:https://www.crmss.org/course.html . Canadian Renaissance Music Summer School 2020 will culminate in a final live concert performance for the public at the end of the course, again this year in the gorgeous acoustics of St Peter's Cathedral Basilica in London on Sunday, May 17th at 2:30pm.
We have received many glowing testimonials by students from previous years – like this one:
"CRMSS is an incredible opportunity for North American conducting students to get a profoundly different and valuable perspective on the art of choral music. Grounded in the choral practices of the most esteemed ensembles in the UK, Greg and co. teach you how to sing, study, and think like a top choral singer, an invaluable set of tools for anyone looking to conduct music at the highest level. I would highly recommend this course to any choral conducting student in the country." (Paolo Debuque, MM University of Michigan, 2017). Learn more about our previous two years of courses here: https://www.crmss.org/2018report.pdf and here: https://www.crmss.org/2019report.pdf.
by choirsontario
Robert Filion
Chef de chœur, Choral Conductor
Robert Filion's choirs are celebrated across Canada, earning top awards at the local, provincial and national level. His vocal ensembles at the Centre d'excellence artistique de l'Ontario (École De La Salle) have won six national championships and can be regular heard on the CBC and Radio-Canada. The voice programme he heads in the CEAOhas three times been designated Best Music Programme in the National Capital Region by the Kiwanis Music Festival and the CBC—in 2008, 2012 and 2017.
A talented musician and artistic director, in 2011 Robert Filion was appointed Artistic Director of Unisong, the annual Canada Day festival of Canadian choirs at the National Arts Centre. He works with the National Arts Centre Orchestra on concerts involving youth choirs. He focuses on new works and music from around the world, and has collaborated on productions of original Canadian works by, among others, Ruth Watson-Henderson, Laura Hawley, Kelly-Marie Murphy, Stephen Hatfield, Donald Patriquin, Frédéric Lacroix and Clifford Crawley.
In January 2018, M. Filion accepted with great enthusiasm the position of Choir Conductor for the University of Ottawa Choir. He looks forward to renewing his ties to his Alma Mater. In 2013 Mr. Filion received the Prime Minister's Award for Teaching Excellence.
——————————————————————
Les chœurs dirigés par Robert Filion sont reconnus partout au pays, décrochant des premiers prix à l'échelle locale, provinciale, nationale et internationale. Les ensembles vocaux sous sa direction au Centre d'excellence artistique de l'Ontario (École secondaire De La Salle), qu'on peut entendre régulièrement sur la CBC et Radio-Canada, ont remporté six concours nationaux. Le programme de musique vocale qu'il dirige au CEAO s'est vu attribuer à trois reprises (en 2008, 2012 et 2017) la désignation de Meilleur programme de musique de la capitale nationale par le Festival de musique Kiwanis et le réseau CBC.
En 2011, Robert Filion a été nommé directeur artistique de Unisong, le festival des chorales canadiennes qui se déroule chaque année au Centre national des arts, à l'occasion de la Fête du Canada. Il collabore avec l'Orchestre du Centre national des arts pour des concerts auxquels participent des chœurs de jeunes. Il met l'accent sur les œuvres nouvelles et la musique de différents pays, et il a apporté son concours à des productions d'œuvres canadiennes originales, notamment des œuvres de Ruth Watson-Henderson, Laura Hawley, Kelly-Marie Murphy, Stephen Hatfield, Donald Patriquin, Frédéric Lacroix et Clifford Crawley.
C'est avec la plus grande fierté qu'en janvier 2018 M. Filion accepte de prendre la direction musicale de la Chorale de l'Université d'Ottawa. Il entame cette nouvelle aventure avec beaucoup d'enthousiasme où il souhaite solidifier ses liens avec son Alma Mater. En 2013, M. Fillion s'est vu décerner le Prix du premier ministre pour l'excellence dans l'enseignement.
by choirsontario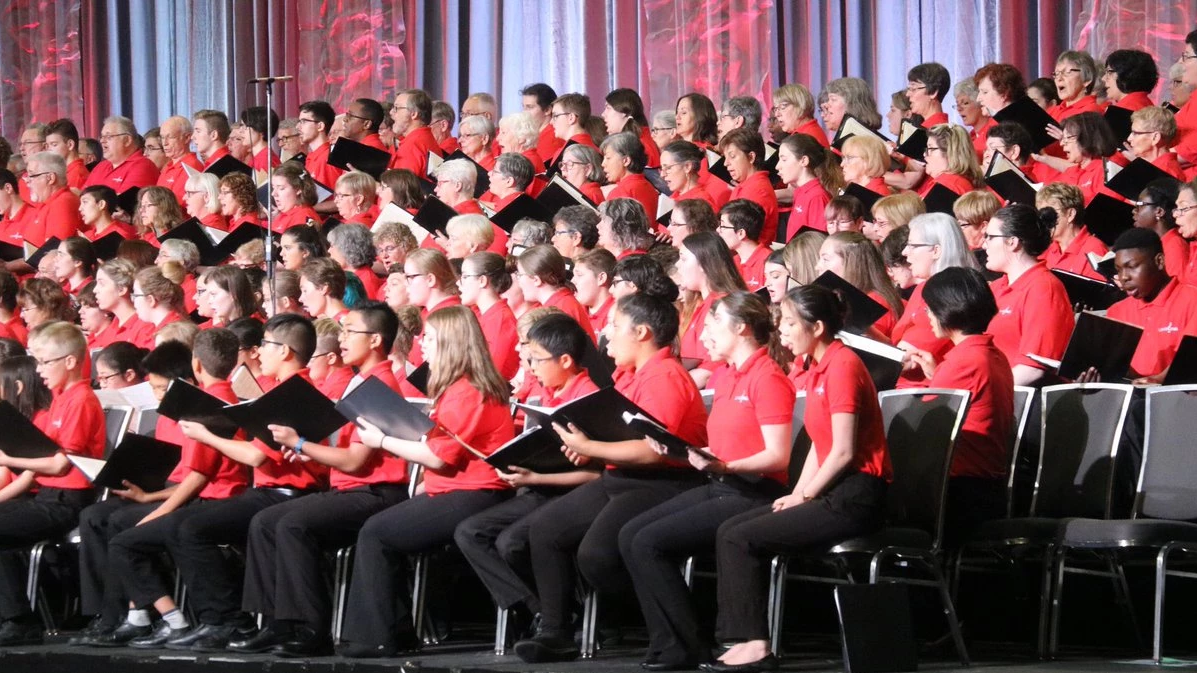 The Unisong Choral Festival has been uniting Canada through song since 1991. The festival brings hundreds of singers or all ages, from all parts of Canada to perform as one massed ensemble. Under the guidance of a well-known Canadian conductor, Unisong is at the heart of Canada Day festivities in the Nation's Capital!
The festival runs June 28th to July 2nd each year and provides choirs a once in a lifetime chance to perform in marquis venues in Ottawa.
2020's guest conductor is Kathleen Allan, the incoming Artistic Director and Conductor of the Amadeus Choir of Greater Toronto and is the Artistic Director of Canzona, Winnipeg's professional Baroque choir!
Every year is different, with unique performance opportunity, and featuring a repertoire of Canadian and International folk music hand-picked by our guest conductor. Additionally, Unisong has a partnership with Heritage Canada, the National Arts Centre, and the City of Ottawa, to ensure that our performers have the opportunity for amazing performances in locations not normally available. Past performance opportunities include singing O Canada on Parliament Hill and singing alongside the National Arts Centre Orchestra.
Have a look at our massed ensemble in 2017!
https://tinyurl.com/r3utrdl
For more information please visit our website, https://www.unisong.ca or contact our Festival Director, Mike Greenwood at:
Email: info@unisong.ca
Phone: 613-355-6616
JOIN US
We are now accepting applications for 2020 and beyond!
by choirsontario
For Immediate Release | December 9, 2019
Music festival now more accessible to all choral music lovers.
Mississauga, Ontario, Canada – David Ambrose, Artistic Director announced some exciting pricing and programming changes that will make the Choral Mosaic music festival more accessible to everyone in our choral community. Choral Mosaic will now be held on 2 days (June 26 & 27, 2020) for  a new Early Bird price of $199 CAD until February 29, 2020. There will now also be open rehearsals offered for all participants.
Choral Mosaic 2020 will still feature performances from Rajaton and Mississauga Symphony Orchestra, and a spectacular Gala Concert featuring a brand-new commissioned work by renowned composer Kim André  Arnesen. Choral music enthusiasts of all skill levels will be invited to participate in a mass choir at the Gala Concert, no audition required. Choral Mosaic will also feature a keynote address by Kim André Arneson and master classes and workshops from top choral clinicians.
Choral Mosaic 2020 Program Highlights:
Keynote address from Norwegian composer Kim André Arnesen;

Concert by Finnish a capella performing artists Rajaton;

Master Class by Rajaton;

Mass Choir Gala Performance of the world premiere of a brand-new choral work by Kim André Arnesen, with Denis Mastromonaco conducting the Mississauga Symphony Orchestra;

Open rehearsals for all choristers prior to the festival weekend;

Master classes and workshops;

Every participant will have an opportunity to perform with no audition required!
Early Bird passes for the 2-day festival are on sale now for $199 CAD until February 29, 2020 here.
For more info, visit www.choralmosaic.com
by choirsontario
PODIUM, Choral Canada's national biennial bilingual Conference and Festival and the top meeting place for Canada's choral community and beyond, is taking place in Montreal from May 14-17, 2020.
PODIUM brings together choral practitioners, researchers, administrators, students, representatives from the music industry, choristers, composers and other members of the choral community from across the country and beyond for professional development, the sharing and proliferation of ideas and research in choral music, performance, networking, and to celebrate Canada's choral communities.
This exciting 4-day conference (May 14-17, 2020) will be packed with sessions, concerts, master classes, student chapter presentations, and much more.
Our early bird registration ends December 1, 2019.
Early Bird registration is now open until December 1, 2019. Get your pass today! https://www.podium2020.ca/registration.html
Daytime choirs (Spotlight Choirs) https://www.podium2020.ca/spotlight-concerts.html
Evening Choirs (Highlight Choirs) https://www.podium2020.ca/highlight-concerts.html
Master Classes: Deadline to apply is December 15, 2019 https://www.podium2020.ca/masterclasses.html
Session Presenters: https://www.podium2020.ca/session-presenters.html
PODIUM Schedule at a glance: https://www.podium2020.ca/schedule.html
Stay up to date, subscribe to the PODIUM newsletter https://www.podium2020.ca/newsletter.html
by choirsontario
For Immediate Release | October 17, 2019
A new music festival that gives choral music lovers of all levels a chance to perform and learn together with choral musicians from around the world.
Mississauga, Ontario, Canada – David Ambrose, Artistic Director has announced the programming for the choral music festival's inaugural season. Spread over 3 days from June 25-27, 2020, Choral Mosaic 2020 will feature performances from renowned choral musicians from all over the world, and choral music enthusiasts of all skill levels will be invited to participate in a mass choir gala performance, no audition required. Choral Mosaic will also feature keynote addresses, master classes and workshops from top choral clinicians.
David Ambrose spoke about what makes the Choral Mosaic program unique from other choral festivals: "It's really the only festival in this part of the country that is actually designed for singers, to give opportunities for singers that they wouldn't have on a week-in, week-out basis in their own choirs, to give them access to some wonderful educational opportunities, a chance to perform some fantastic music a full symphony orchestra including a brand-new commissioned work by one of the world's top new composers. It's also just a chance to come together as a choral community and celebrate what we do and explore what we do on a deeper level."
Program Highlights:
• Keynote address from Norwegian composer Kim André Arnesen;
• Concert by Finnish a capella performing artists Rajaton;
• Performance of Primadonna Choralis by Canadian Soprano Mary Lou Fallis;
• Master Class by Rajaton;
• Mass Choir Gala Performance of the world premiere of a brand-new choral work by Kim André Arnesen, with Denis Mastromonaco conducting the Mississauga Symphony Orchestra;
• Performances by choirs from around the world;
• Master classes and workshops;
• Every participant will have an opportunity to perform with no audition required!
See the new Choral Mosaic 2020 Program Schedule here
Early Bird passes for the 3-day festival are on sale now until December 9, 2019 here
Program Details:
Kim Andre Arnesen: Composer and Keynote Speaker
Kim André Arnesen is one of the most frequently performed classical composers from Norway today. He was educated at the Music Conservatory in Trondheim. Choral music became his greatest passion. As a composer, he had his first performance at the age of 18. Since then he has written music that has been performed by choirs all over the world.
Rajaton: Performance & Master Class
A capella sensation Rajaton was founded in Helsinki in 1997. Rajaton has sold over 100,000 records worldwide. They have earned eight gold records, one platinum and one double platinum record. The Finnish word "rajaton" means "boundless", and this perfectly describes the wide and varied nature of their repertoire, from sacred classical to Europop. Rajaton performs in Finland and tours in Europe and around the world. They have performed in over 25 countries.
Primadonna Choralis with Mary Lou Fallis
Toronto-born Mary Lou Fallis is well known to thousands of Canadian theatregoers for her series of one-woman shows (Primadonna, Primadonna Goes Camping, Primadonna Does More with Less, Primadonna on a Moose), which have toured North America, Europe, Japan and Iceland. She is well known to millions of radio fans for her weekly Primadonna Diaries which were a regular feature on CBC Radio 2 for many years. Mary Lou was nominated for a Dora Mavor Moore Award for her Primadonna series (based on her own life as a singer) as well as winning a Gemini Award for producing the BRAVO! TV hit "Bathroom Divas". She has released two CDs: "Primadonna on a Moose" and "Fallis & Tiefenbach More or Less Live". Ms. Fallis has toured Canada from stem to stern and is much in demand as an adjudicator and clinician across the country. Mary Lou Fallis was appointed to the Order of Canada in 2011 for her services to music and her work as a performer, teacher and broadcaster.
The Mississauga Symphony Orchestra
The Mississauga Symphony Orchestra is passionate about, and committed to, maintaining and continuing the tradition of classical symphonic music in Mississauga. The MSO takes pride in our designation as the best hybrid orchestra in Canada, a term that describes an orchestra with a mixture of professional musicians and highly skilled amateurs. Under the direction of Maestro Denis Mastromonaco since 2013, the Mississauga Symphony Orchestra continues to offer entertaining and increasingly sophisticated programs from the classical and popular repertoires of symphonic music with a quality of programming that meets the highest artistic standards. With the inclusion of the Mississauga Symphony Youth Orchestra in 2014, the organization has become the centre of classical symphonic music in Mississauga, built around the pillars of music education, performance and entertainment. The MSO has grown significantly since its inception in 1972 and is now designated as one of Mississauga's six pillars of arts, culture and heritage.
Denis Mastromonaco, Conductor
The Mississauga Symphony Orchestra is thrilled to enter its fifth season under the direction of Maestro Denis Mastromonaco. Mastromonaco brings with him over 20 years of experience in conducting and teaching both symphonic and operatic groups. He has worked with orchestras nationally and internationally including New York's Orchard Park Orchestra, Czech Republic's West Bohemian National Orchestra, and the National Academy Orchestra of Canada. As an advocate for music in the community, Maestro Mastromonaco has been Music Director for numerous ensembles and has taught, adjudicated and served as clinician for schools, arts festivals and competitions all while promoting the importance of music in local communities. He has been the recipient of prestigious awards including the Emme Contestabile Prize in Orchestral Conducting from Accademia Musicale Chigiana, the City of Vaughan 2005 Outstanding Citizen Award and in 2013 the Ontario Service Medal for contribution to the arts.
David Ambrose, Artistic Director
David Ambrose is the creator and founder of Choral Mosaic. David has served as Artistic Director of Mississauga Festival Choir since 2006, facilitating its growth from a single choir of 75 to an organization of four choirs with more than 250 singers. An award-winning conductor, singer and director, he is equally accomplished in choral music, musical theatre and opera. David was the inaugural winner of the Elmer Iseler National Fellowship in Choral Conducting. In recent years, David has served as Stage Director for Mississauga Symphony's productions of Carmen and La Bohème, as well as productions of Beauty and the Beast, How to Succeed in Business without Really Trying and Anne of Green Gables. David teaches vocal music at Etobicoke School of the Arts, one of Canada's leading high schools for the arts. He also conducts several ESA choral ensembles including its Toronto Symphony Orchestra Pops Choir and the award-winning WoCo young women's choir. David serves as Director of Music at Runnymede United Church, is active as a choral music clinician, and mentors many emerging artists.
Mississauga Festival Choir, Host Choir
With over 160 singers, Mississauga Festival Choir is one of the largest community choirs in Canada. MFC enriches lives through music by way of performance, education and outreach. The choir values excellence in choral music performance, education, spirit and community engagement. MFC first came together in 1984 to celebrate Mississauga's 10th anniversary and stayed together to celebrate the joy of singing in a choral community like no other. Their spirited singing springs from our no-audition policy. Everyone who loves to sing is welcome to join MFC, and audiences hear the joy in every song. Under the leadership of David Ambrose, MFC performs many concerts, raises money for local charities, records professional CDs, holds an annual choral competition and tours the world. In addition to the large community choir, the MFC family includes Resonance (a youth and young adult choir), Raising Voices (a choir for people with Alzheimer's and dementia), and a chamber choir.
'Round the Town Concerts & Workshops
More details to follow in the coming months.
For more information, please visit the Choral Mosaic 2020 Website or this Choral Mosaic 2020 Event Page.
Choral Mosaic 2020 gratefully acknowledges the generous support of: The City of Mississauga, The Living Arts Centre, Ellison Travel & Tours.